Welcome
I believe that these are pictures of Confederate Soldiers from the Civil War. This album also included pictures of women, children, and non-uniformed men. I was told that all these people were from St...
It happens to us all. Occasionally we buy a piece and are disappointed, or overlooked a flaw noted in the description, or don't agree with the seller that the item was in "great/good/awesome"...
This turn of the century children's alphabet book contains illustrations and descriptions of 27 birds from all over the world including parrots, poultry and songbirds.
This next article includes plenty of scantily clad pictures of Lucille Ball and Marie Wilson (as Irma, the dumbest blonde on TV). Irma in the "My Friend Irma" show, especially, is mentioned as stretch...
These photos show the Arch under various stages of construction, from just two legs, to the final keystone about to be placed into the nearly complete monument... fascinating historic slide scans of t...
Did you know that the first Miss America was 5 foot 1, weighed 108lbs, had a 30 inch bust, 25 inch waist, 32 inch hips and brown hair with blue eyes? In comparison, Evelyn Ay, the 1954 winner, measure...
Ginger Rogers graced the front cover of the October 1935 edition of Popular Songs Magazine. It advertised the lyrics to over 30 popular songs of the mid-1930s! On the inner cover was a full page il...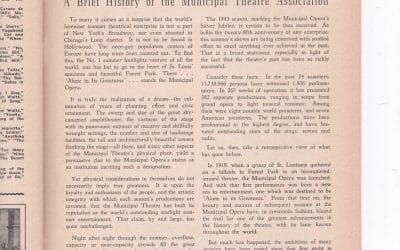 These pages from the 1943 St. Louis Municipal Opera program include the Municipal Opera Productions Directory (from 1919-1942), and a brief history and facts about the Muny Association.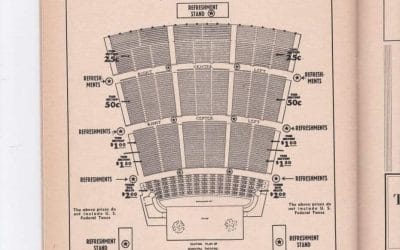 This set of scans of the 1943 St. Louis Municipal Opera Theater Program includes the seating chart and seat prices in an advertisement for C.L. Finot Inc. Concessionaires. It looks like during WWII, T...