History of Beauty Contests and the Ideal Female Measurements of the 1950s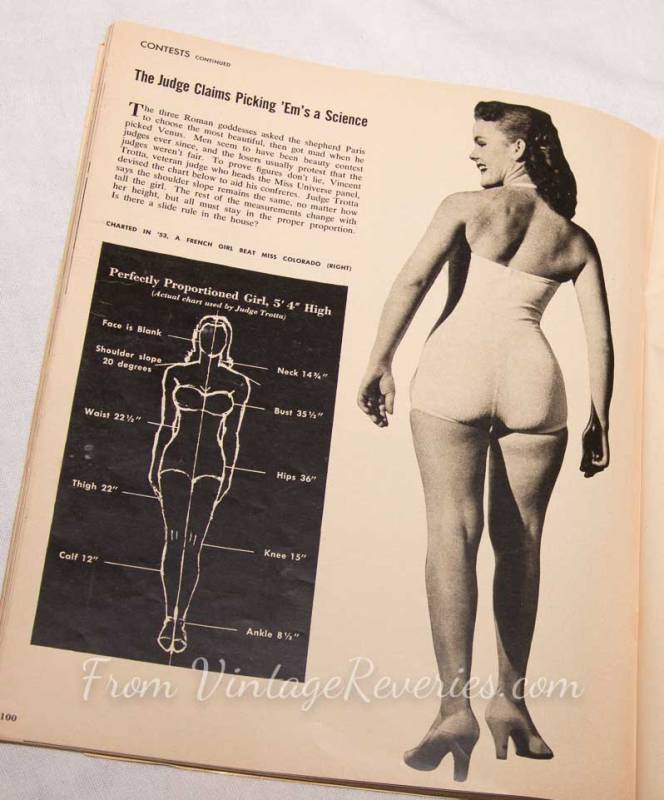 This is an article about the ideal female measurements, and a short history of beauty contests. Did you know that the first Miss America (in 1921) was 5 foot 1, weighed 108lbs, had a 30 inch bust, 25 inch waist, 32 inch hips and brown hair with blue eyes? In comparison, Evelyn Ay, the 1954 winner, measured: 5'8, 132lbs, 37-24-36.
In 1938 the Mrs. America was started, and from 1947-1953 held in Asbury Park NJ but moved to Ellinor Village Florida for the 1954 contest. Mrs Erna Snyder was Mrs. America in 1954, and her measurements were: 5'4, 115 lbs, 34-23-34.
Lastly, here is a chart and a picture to demonstrate the perfect female form of the 1950s, as decided by Vincent Trotta, a Miss Universe judge. He claimed that it was proportion, so a woman could be taller or shorter, just proportional.
The "perfectly proportioned" 5'4 woman of 1953 measured:
shoulder slope 20 degrees
neck 14 and 3/4
35.5 bust
22.5 waist
36 inch hips
22 inch thighs
12 inch calfs
15 inch knees
8.5 inch ankles
Interesting history of beauty competitions, eventhough I don't quite understand it all!
How do you measure up to the 1950s female beauty standard?